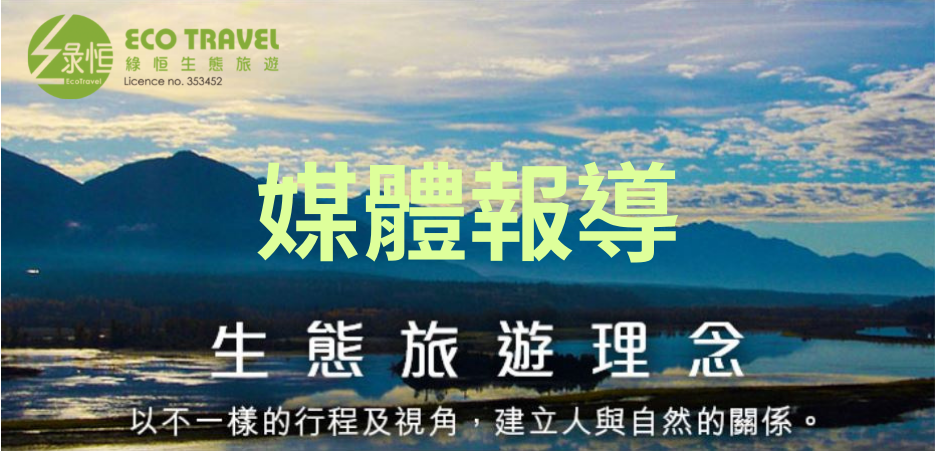 Tourists here to stay
Each year, Eco Travel Limited Ltd — a Hong Kong-based eco-tour company — organizes more than 100 eco-tours promoting Hong Kong Geopark of China, country and marine parks, sea-creature sightseeing and bird-watching.
Local visitors, as well those from the mainland, Macao, Japan, Europe and the United States, are lured to join, with foreign tourists making up about 10 percent of the company's customers.
Most of the visitors from Macao and the mainland see these eco-tours as of high quality because of the breath-taking scenery offered and the professionalism of the company's tour guides.
In terms of the number of tourists and qualified tour guides, Eco Travel has seen a growth rate of between 5 and 8 percent in recent years.
Despite its "concrete jungle' image, Hong Kong has, in fact, urbanized only some 17 percent of its land area, and more than 40 percent of the city is protected, with 23 country parks, several marine parks, special areas and Ramsar sites. Percentage-wise, this is probably the highest in the world.
Hong Kong is endowed with great natural scenery (an array of landforms that comprises precipitous peaks, deep valleys, indented coasts and numerous islands) with huge biodiversity.  This means much potential in eco-tourism can be tapped to diversify tourism. For instance, the opening of Hong Kong Wetland Park in 2006 and Hong Kong Geopark of China in 2009 give the SAR two world-class eco-tourism facilities close to the city center.
"Although the number of both our tours and clients is rising, the pace of eco-tourism development in Hong Kong is still not fast enough," Eco Travel's tour manager Derek Tse told China Daily.
He suggested one reason is that Hong Kong's tourism promotion agencies seldom publicize eco-tourism. Another factor is thateco-tourism is not positioned as a high value-added segment in the industry's value chain.
"The Hong Kong Tourism Board (HKTB) seldom elicits our opinion on how to cementeco-tourism as a high value-added segment in the tourism industry," Tse lamented. "What the HKTB does is just promoting certain hiking trails to overseas tourists, and its official website only contains scanty information oneco-tourism activities."
"Local travel promotion agencies prefer devoting their resources to publicizing major conventional tourist activities.Eco-tourism is not their top priority," he reckoned.
Cultural tourism also offers another path for Hong Kong tourism players to diversify their businesses. Cultural heritage and international art fairs have been two major sources of growth for cultural tourism in recent years.
Intangible cultural heritage
The government published the first intangible cultural heritage (ICH) inventory list for Hong Kong earlier this year (containing 477 items) after conducting the first city-wide ICH survey in May 2013. The HKTB actively promotes ICH events like the Cheung Chau Jiao Festival, the Tai O dragon boat water parade, the Tai Hang fire dragon dance and the Yu Lan Ghost Festival of the Hong Kong Chiu Chow Community to global travelers.
The HKTB and the Tourism Commission (TC) have launched heritage-themed itineraries, such as itineraries along Kowloon-Canton Railway lines, the Ping Shan heritage trail in the New Territories and the Sun Yat-sen historical trail in the Central and Western District to enhance cultural experiences for tourists.
An increasing number of international art fairs is being staged in Hong Kong to help it tap the cultural tourism potential. With the launch of Art Basel last year, the annual event can lift cultural tourism by getting more public and art industry practitioners to travel to the city. Attendance at last year's Art Basel topped 60,000, with 245 art galleries from 35 countries taking part.
Hong Kong also has other cultural experiences to offer tourists that conventional cultural heritage itineraries and international art fairs can't deliver.
Secret Tour — an informal organization set up in February 2012 to provide an insight into the city's hidden sightseeing attractions that never appear on local travel agencies' itineraries — offers a glimpse of how Hong Kong can develop alternative cultural tourism.
At first, Secret Tour offered "Colonial Walk" and "Dark Hour" itineraries exploring Hong Kong Island's architectural styles and diversified cemetery building structures. Emboldened by a favorable market response, the project's founders, Stephen Chung and Josie Cheng, quit their jobs and registered Secret Tour as a commercial enterprise and ran it full-time. The company subsequently began charging for their specifically-themed tour packages.
Currently, the company streamlines its packages into three new tour brands — "Photowalk", "Local Art Tour" and "Cultural Tour". It also aims to team up with various organizations to promote other themed tours. It ran a "Secret Sunday with Migrant Workers" tour in Central in conjunction with migrant workers in the city. Secret Tour also organized the first-ever "Milk Tea Walk" with the Association of Coffee and Tea of Hong Kong, as well as different themed tours to Chuk Yuen Heung in Wong Tai Sin, Tin Shui Wai, Nam Koo Terrace in Wan Chai and Shanghai Street in Mong Kok.
"There's a market demand for such in-depth tours because foreign tourists and even locals like them," said Chung. "Traveling is not just about monuments and sites but, more importantly, about the people you encounter and the stories you share."
Eco-tourismand cultural tourism are two feasible options that Hong Kong can leverage on to diversify its tourism industry structure and ascend the value-chain ladder. The list can further include medical, sport, cruise and volunteer tourism.
However, Hong Kong still positions itself as the venue for business and leisure level that emphasizes only shopping and dining.
Since the central government has allowed more mainland tourists to visit Hong Kong, the industry has become too reliant on mainland visitors and their spending. To safeguard future sustainable development, the industry needs to expand and diversify its visitor sources and product variety.
"The solution lies in Hong Kong's ability to organize more diverse activities and events to promote sustainable tourism," said Lee Kui-wai, an associate professor in economics at City University of Hong Kong.
More themed tours
He suggested that the HKTB introduce more large-scale yacht racing events to attract more tourists since Hong Kong has a subtropical climate and a long ocean shoreline.
The HKTB can also organize more themed-tours to enhance travel experience, such as visiting museums and monasteries on Lantau Island, and strolling on Hong Kong Island's beaches.
"Through these diverse activities, it's hoped we can lure more tourists apart from the mainland under the Individual Visit Scheme (IVS) and the one-year multiple entry Individual Endorsements scheme," Lee said.
An estimated 54 million visitors pumped HK$343 billion into Hong Kong's economy last year, which accounts for 4.7 percent of the city's GDP, offering employment for a quarter of a million residents, according to TC data. Tourism also drove growth in other industries, including the retail, catering and transport sectors, with low-skill requirements.
The Tourism Commission said mainland tourists continued to constitute the largest visitor source with 40.7 million arrivals, or 75 percent of total tourist numbers in 2013.
Mainland tourists have continued to flock to Hong Kong this year. According to HKTB figures, total tourist arrivals from January to May hit 24.04 million, registering an annual hike of 17.6 percent. Overall, mainland tourists made up 76.6 percent of all arrivals.
Although mainland tourists have been pumping huge tourist receipts into the SAR, the Foundation Research Centre (FRC) warned that the slanted nature of the local tourism industry would have negative economic effects for Hong Kong as the industry still remains at the lower end of the value chain.
According to government statistics, the average per capita spending by same-day visitors traveling on multiple-entry endorsements amounted to HK$2,220 in 2013 — much lower than the HK$8,123 average per capita spending by overnight visitors for the same period. In the 12 months from June 2013 to May 2014, there were 13.22 million mainland visitors coming here on multiple-entry permits.
Besides potential negative economic consequences, Hong Kong has paid a heavy price socially —  soaring prices of daily necessities, heavy congestion at transportation networks and a surge in parallel trading activities, triggering public discontent.
The IVS scheme, which currently covers 49 mainland cities, was launched in July 2003 by the central government in an attempt to revive Hong Kong's sluggish economy. In April 2009, the central government introduced one-year multiple-entry endorsements for Shenzhen permanent residents, enabling them to visit Hong Kong frequently. The one-year multiple-entry scheme was further extended in December 2009 to eligible non-Guangdong permanent residents ordinarily residing in Shenzhen, and to non-Guangdong permanent residents working in the Special Economic Zone in 2010.
In alleviate social disquiet in Hong Kong, the SAR and central government are negotiating on whether to curb the number of mainland tourists to the city under the IVS and multiple-entry schemes. It was reported earlier that Hong Kong had proposed a 20-percent cut in the number of mainland tourists.
According to Hong Kong's tourist receiving capacity assessment report released by the Commerce and Economic Development Bureau last year, Hong Kong still has the overall capacity (in dealing with congestion at border checkpoints, attracting and handling tourists and providing an efficient public transport network) to receive a projected 70 million in tourist arrivals by 2017 and more than 100 million by 2023.
The only drawback appears to be Hong Kong's tight hotel-room supply that may not able to cater to the needs of the growing pool of tourists.